Glorious costumes for Busgy Malone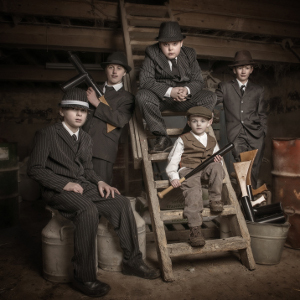 This show needs to sparkle and shine! You need a bit of glam and glitz to give your production a real 'WOW' factor. In fact, you need loads of costumes (and some need to be splurgable!) We can help you with this. We've collected many wonderful costumes for you to use in your show - ranging from the shiny fringed dresses, the longer glam dresses with boa necklines or chiffon capes with feather trim and many 1920s style flapper dresses. There are suits for boys and girls and you can cover them with splurge (just follow the cleaning instructions if you do). Some trilbies and headbands are also included in the hire. You can hire more of everything from us if you need to.
Photos on this page courtesy of fo2oimaging.com.
"I just wanted to say a big thank you to OffBeat Theatre for providing top class costumes and props. The guns were a huge source of excitement and fun and at the end of the show almost every child in the audience wanted to fire one! The quality of the costumes was excellent. We had a very good variety of sizes and looks, ample for everyone in our large cast. Thanks once again for adding to our amazing experience."
Lee Brown, St Clere's School
WHERE TO?
We can send our costumes to the UK (obviously) and usually anywhere in EUROPE. We do not send costumes beyond Europe though - ever. Beyond Europe and it becomes very costly and time-consuming (plus the whole 'exporting' hoop to jump through). Sorry.
HIRE 1, HIRE 2 and HIRE 4
We have 3 hire packages for Senior School sizes
Ask for an INFO PACK from us - we supply measurements as well to help you allocate items.
15 suits - for girls and boys. Age 10 - 16 for boys, sizes 8 - 16 for girls.
16 trilbies
10 Ties (black/white)
6 Jackets without trousers
1 Blousey Jacket
2 Cloche hats
3 Waistcoats
2 Flat caps
9 Black dresses - Sizes 8 - 14
13 Dresses various colours - Sizes 10 - 14
6 Shiny Showgirl dresses with headbands - sizes 6 - 12.
6 Longer length dresses with boa necklines/feather trim capes sizes 8 - 12. The Hire 1 dresses are purple/lilac, Hires 2 and 4 dresses are pink.
Tallulah dress size 12. Hire 1 is a silver dress with chiffon cape. Hires 2 and 4 are cerise dresses with a chiffon cape or boa.
HIRE 3 - JUNIOR (8 - 11)
The same content as for the other hires, but smaller!
Suits are Age range 9 - 12 or size 6 & 8 for girls
Boa dresses are pink and all dress to fit ages 8 - 11+ (some sizes 6 & 8)
HIRE EXTRA
You can HIRE EXTRA of anything we stock. Please contact us with your additional requirements. We can also be able to supply a bag of jewellery, headbands and boas (subject to availability). When you enquire we'll send you an INFO PACK with full details.
We are often able to supply a case of costumes to supplement your own if we are fully booked up for your dates. We'll let you know if that's a possibility when you enquire. We can also swap things around (a bit) to suit.
PUTTING ON ANOTHER SHOW SET IN THE 1920s?
We can probably help - we have loads of spare costumes. Just get in touch and we'll see if we can put a hire together for you.
THE BUGSY MALONE STYLE BOARD
Check out our collection of photos and drawings to help you design your own Bugsy Malone stage set, get the props right and find the right style of costumes
Many of the photos are from our own production and some of the costumes are actually still going!
Please have a browse and feel free to pin anything you like onto your own pin board - it's a great way to get your design ideas organised.